NH Business Review | Amanda Andrews
"We envision a New Hampshire where all children grow up free from abuse and neglect." So says the mission statement of NH Children's Trust, a statewide, community-based child abuse prevention agency founded in 1986. Its goal is to connect parents with providers to strengthen families and build resilient communities.
April is Child Abuse Prevention month, and the Children's Trust's priority is to raise awareness of New Hampshire's network of Family Resource Centers whose programs bridge the gaps that grow when stressors overwhelm parents. Part of its role as the NH's facilitating organization is to partner with 26 family resource center locations across the state and provide them with the support, coordination, training and technical assistance they require in order to reach high-quality standards.
"When families are stronger, the occurrence of child abuse drops," said Cliff Simmonds, executive director of the Children's Trust. "When we get these factors like pandemics and inflation and economic uncertainty and housing and all this, they tend to go up."
He added: "Let's not wait to intervene. How about we provide the strengthening that (families) need, whether it's education, community or other supports that are really necessary in all our lives, that we oftentimes take for granted, and give it to those folks so they're in a position of strength? It then strengthens the community, the businesses in that community, and then you have this really healthy environment."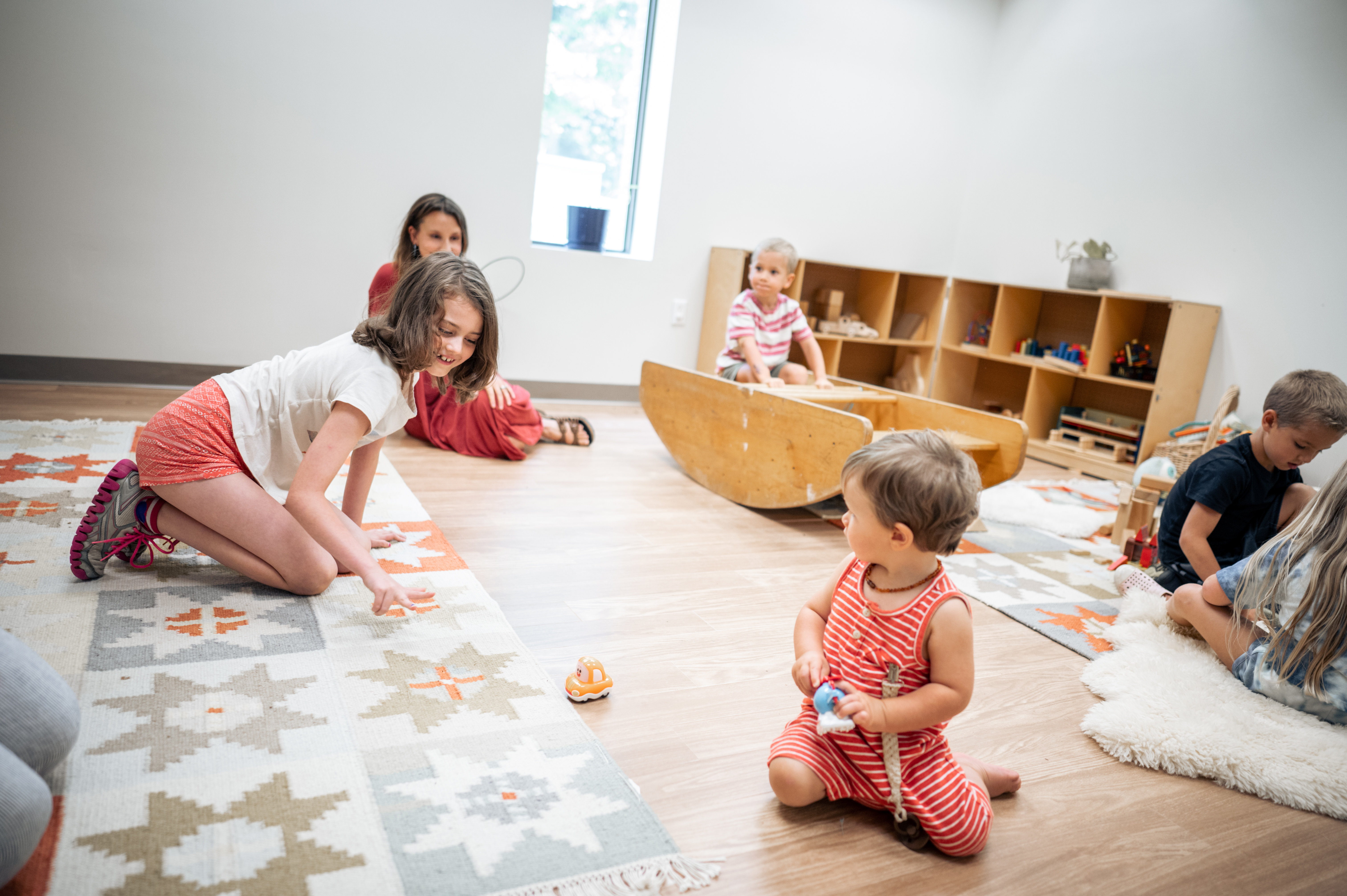 The River Center in Peterborough provides parent education, family support and community connections in the Eastern Monadnock region of the state. (Courtesy Photo)
Building connections
New Hampshire is facing many challenges that affect residents in areas such as housing, inflation, child care, substance abuse, mental health and healthcare costs.
In order to help people and their families manage such high levels of stress, Family Resource Centers offer programs and resources to help overcome, or work towards overcoming, those challenges.
"We recognize that parenting can be stressful for everybody; it's normal to be stressed. Our goal is to help families alleviate some of that so they can be the nurturing parents that they want to be," said Penny Vaine, program manager of Healthy Starts at Home Healthcare, Hospice & Community Services in Keene.
A major factor in most everyone's daily lives is work.
Forty-plus hours Monday through Friday are normally spent on work-related tasks, not to mention everything else going on, such as parenting, cooking meals, transporting children to school or after-school programs, and maintaining a healthy lifestyle, in addition to struggles outside of our control: inflation, high healthcare costs, lack of child care, housing shortages and mental health fatigue after a three-year-long pandemic.
Employers are in a position to help. As Amanda Osmer, principal and fourth-generation owner of Grappone Automotive Group, asks: "Do you or do you not put your team members first? Specifically, are you there to listen when they need somebody to listen? Have you created an environment where people don't feel psychologically unsafe or feel they're going to be in trouble if they come to you — whether it's struggling with addiction, or maybe they have somebody close to them that has problems with addiction, that prevents them from being to work on time?" According to the NH Children's Trust, here are some ways employers can support their team members in the workplace:
• Build connections between employees to local Family Resource Centers that offer supports that strengthen families and reduces stressors.
• Establish paid family leave to ensure parents can spend time with their children throughout their children's development.
• Support access to affordable and quality child care and access to early childhood education.
• Grant flexible working time arrangements so parents and kinship caregivers can be with their children whenever necessary.
• Ensure decent working conditions, such as pay that is commensurate with the cost of living for New Hampshire families.
"For us to pretend that it's not happening and leave your problems at the door — that's not reality," said Osmer. "The whole person shows up to work, so we need to figure out that the brain is important, as if you had a broken limb."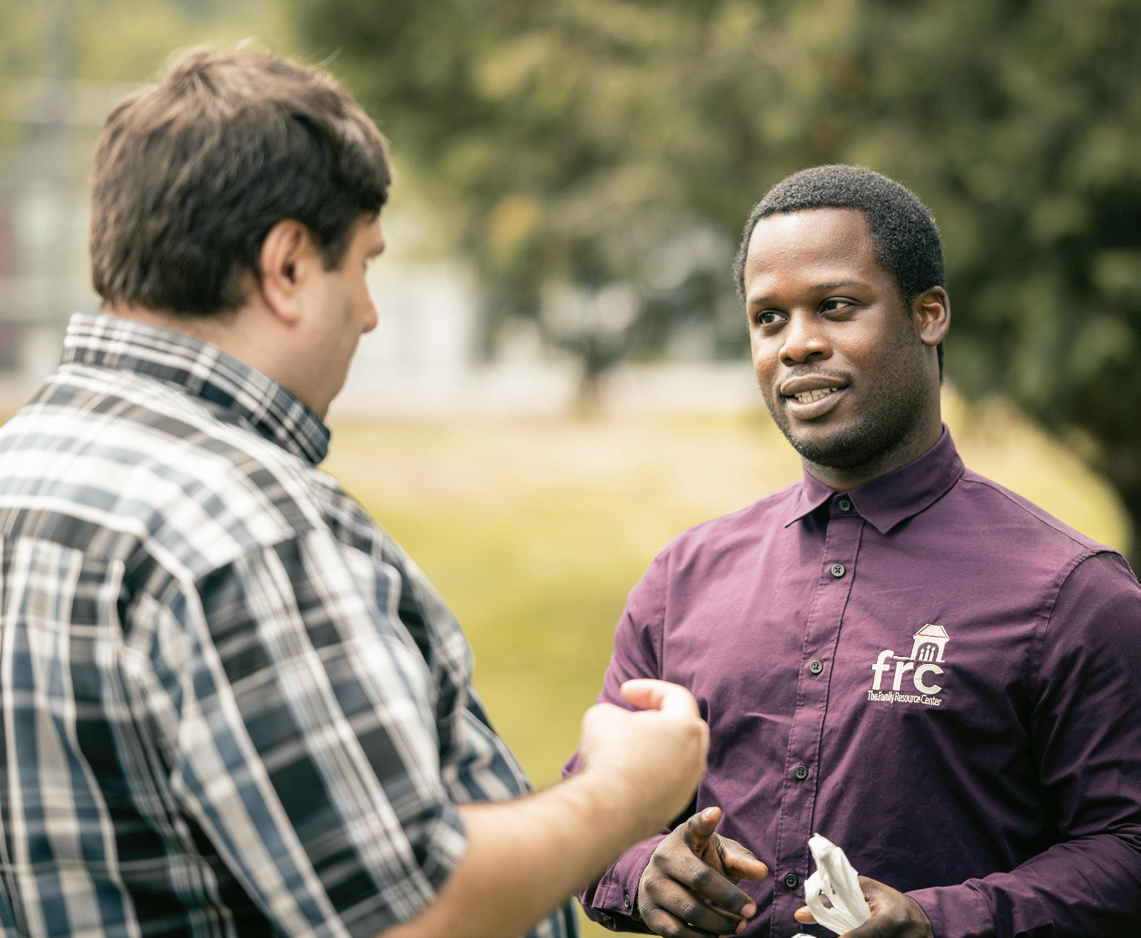 The Family Resource Center in Gorham serves Coos and Northern Grafton counties (Courtesy Photo)
Where prevention begins
If businesses take care to support their employees both inside and outside of work, they can help prevent child abuse and neglect before it happens, experts said.
When it comes to wages, according to K.M.
Raissian and L.R. Bullinger's "Child Youth Services Review," published in 2017, every $1 increase in the minimum wage is associated with a 9.6 percent reduction in neglect reports.
Additionally, a 10 percent increase in the federal earned income tax credit led to a 9 percent decrease in the annual number of child-neglect reports made to child welfare agencies over a 14-year period.
And one study from the American Academy of Pediatrics found that each additional $1,000 that states spend annually on public benefit programs per person living in poverty is associated with a 4.3 percent reduction in child maltreatment reports; a 4 percent reduction in substantiated child maltreatment; a 2.1 percent reduction in foster care placements; and a 7.7 percent reduction in child fatalities related to abuse or neglect.
"The most powerful thing that we can do as an employer is just be true to our word," Osmer said. "Put it out there, walk the walk. Our mission is our guiding light — we have to take care of our team; that's what we do."
Vaine offers some further advice: "If a business is recognizing that there's tardiness or poor attendance or something, they can reach out and suggest to their employee that there are FRCs (Family Resource Centers) in the community that can help them figure some of those things out, whether that is time management or how to get a dependable vehicle. Those are not easy tasks as a parent."
Brenda Guggisberg, executive director of The Upper Room in Derry, agrees: "We are exhausting the systems, the hospitals and the mental health centers just to support families around those needs. In that same vein, I see all of those deficits being countered by the amazing resilience that families have. This is all heavy stuff, but there are some brave warriors out there."
"There's a lot of complications within the whole system," said Simmonds, "but there's a lot of simple things that we can all do that strengthen our communities, families and neighbors, and that's what we try to bring forward."
To find out more about how employers can help employees, contact your local Family Resource Center to collaborate on a plan that benefits your team to create families with strong bonds.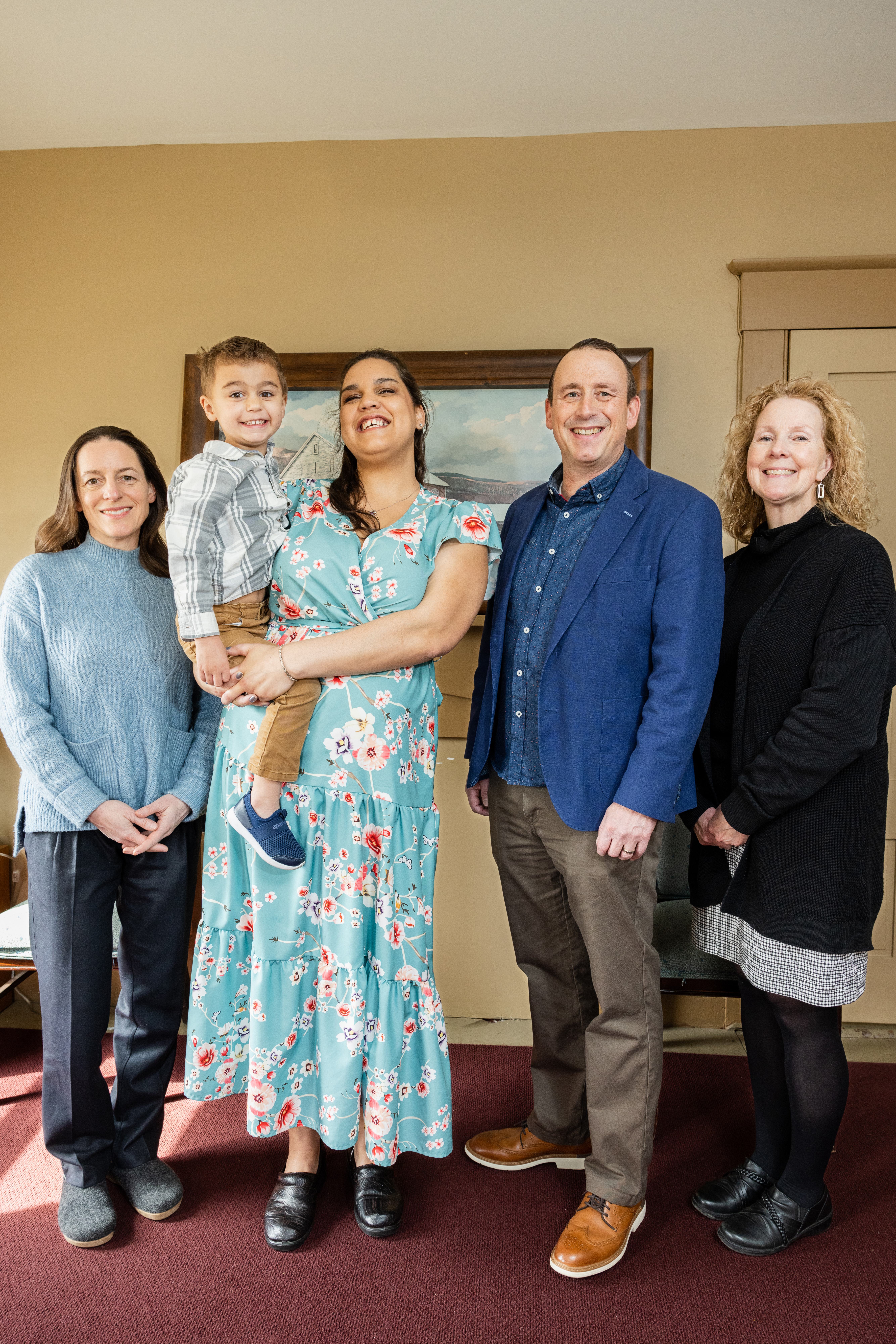 From left: Amanda Osmer, owner/operator, Grappone Autootive Group; Jordan Brown with her sons; Cliff Simmonds, executive director, NH Children's Trust; and Brenda Guggisberg, executive director, The Upper Room Family Resource Center. (Photo by Anthony Riso)
How to contact a family resource center
Editor's note: For more information about the centers, the programs they offer and cities they serve, visit nhchildrenstrust.org.
Archways (formerly Greater Tilton Area Family Resource Center)
5 Prospect Street
Tilton, NH 03276
(603) 286-4255
www.archwaysnh.org
Belknap-Merrimack Community Action Program
121 Belmont Road
Laconia, NH 03246
(603) 528-5334
www.bm-cap.org
Community Partners
113 Crosby Road, Suite 1
Dover, NH 03820
(603) 516-9300
www.communitypartnersnh.org
Children Unlimited Inc.
182 W. Main Street
Conway, NH 03818
(603) 447-6356
www.childrenunlimitedinc.org
Community Action Partnership of Strafford County
642 Central Ave.
Dover, NH 03820
(603) 435-2500
www.straffordcap.org
Community Bridges
70 Pembroke Road
Concord, NH 03301
(603) 225-6159
www.communitybridgesnh.org
Community Crossroads
8 Commerce Drive
Atkinson, NH 03811
(603) 893-1299 ext. 331
www.communitycrossroadsnh.org
Easterseals Child Development and Family Resource Center
435 S. Main Street
Manchester, NH 03103
(603) 666-5982 ext. 36
www.easterseals.com/nh
Families First
8 Greenleaf Woods Drive
Portsmouth, NH
(603) 422-8208
www.GetCommunityHealth.org
Family Connections Center, Department of Corrections
105 Pleasant Street
Concord, NH 03301
(603) 271-2255
www.nh.gov/nhdoc/fcc
Family Resource Center
123 Main Street
Gorham, NH 03581
(603) 466-5190
www.family-resource-center.org
Gateways Community Services
144 Canal Street
Nashua, NH 03064
(603) 889-5460
www.gatewayscs.org
Good Beginnings of the Upper Valley
PO Box 5054
West Lebanon, NH 03784
(603) 298-9524
www.gbuv.org
Grapevine Family & Community Resource Center
4 Aiken Street
Antrim, NH 03440
(603) 588-2620
www.grapevinenh.org
Home Healthcare Hospice and Community Services
312 Marlboro Street
Keene, NH 03431
(603) 352-2253
www.hcsservices.org
Lakes Region Community Services, Family Resource Center of Central NH
719 N. Main Street
Laconia, NH 03246
(603) 524-8811
www.lrcsc.org
Monadnock Developmental Services
12 Depot Street
Peterborough, NH 03458
(603) 924-4203
www.mds-nh.org
Monadnock Family Services
64 Main Street
Keene, NH 03431
(603) 352-1304
www.mfs.org
Northern Human Services
69 Willard Street
Berlin, NH 03570
(603) 752-1005
www.northernhs.org
One Sky Community Services
755 Banfield Road
Portsmouth, NH 03801
(603) 436-6111
www.oneskyservices.org
Pathways of the River Valley
645 Main Street
Claremont, NH 03743
(603) 448-2077
www.pathwaysnh.org
Salem Family Resources—Success by Six
171 Zion Hill Road
Salem, NH 03079
(603) 898-5493
www.salemfamilyresources.org
Southern New Hampshire Services
40 Pine Street
Manchester, NH 03103
(603) 668-8010
www.snhs.org
The Children's Place and Parent Education Center
27 Burns Avenue
Concord, NH 03301
(603) 224-9920
www.thechildrensplacenh.org
The Family Education Collaborative at the YWCA
72 Concord Street
Manchester, NH 03101
(603) 625-5785
www.ywcanh.org
The Moore Center
195 McGregor Street
Manchester, NH 03102
(603) 206-2700
www.moorecenter.org
The River Center, a Family and Community Resource Center
9 Vose Road, Suite 115
Peterborough, NH 03458
(603) 924-6800
www.rivercenternh.org
The Upper Room, a Family Resource Center
36 Tsienneto Road
Derry, NH 03038
(603) 437-8477
TLC Family Resource Center
109 Pleasant Street
Claremont, NH 03743
(603) 542-1848
www.tlcfamilyrc.org
VNA of Central New Hampshire
240 South Main Street
Wolfeboro, NH 03894
(603) 569-2729
www.granitevna.org
Waypoint State Headquarters
464 Chestnut Street
Manchester, NH 03101
(603) 518-4000
www.waypointnh.org
Waypoint, a Concord-Area Family Resource Center
103 North State Street
Concord, NH 03301
(603) 518-4000
www.waypointnh.org
Waypoint, a Manchester-Area Family Resource Center
464 Chestnut Street, PO Box
448
Manchester, NH 03105
(603) 518-4000
www.waypointnh.org
Waypoint, a Nashua-Area Family Resource Center
113 West Pearl Street
Nashua, NH 03060
(603) 518-4000
www.waypointnh.org
Whole Village Family Resource Center
258 Highland Street
Plymouth, NH 03264
(603) 536-3720
www.graniteuw.org/our-work/granite-united-way-initiatives/whole-village